Glasses for Round Faces
Focus on square and rectangular frames if you have a round face. Want to know the key to finding the perfect pair? Here's our little secret: It's all about creating contrast and balance between your face shape and the frame you've picked. Your search should start with a frame that features a strong, angular structure. So, what are you waiting for? Take a peek below at the best glasses for round faces.
Check out these timeless glasses styles for round faces
Not sure if you've got a round face shape?
Step in front of the mirror and take a look for yourself. People with round faces have a fuller shape to their cheeks, which often gives them a more youthful appearance. Following that, they also have foreheads that are wider at the top rather than narrow. Another tell-tale feature is that, nearing the bottom of the face, people with round faces usually have rounder chins than other face shapes. In some cases a more subtle jawline is also a good sign. If this sounds like it describes you, get ready — EyeBuyDirect has hundreds of excellent glasses for round faces just for your face shape.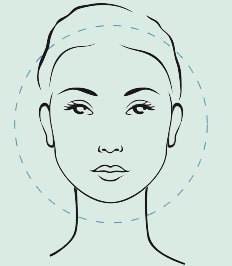 Trendy glasses for round faces come in all sorts of shapes and colors. Looking for a cute and fun aesthetic? Try adding a pop of color to a frame that catches your eye. Aiming for something more cool than quirky? You might find yourself in love with a sleek pair of transparent frames. Just remember that before you buy, be sure that you're selecting your frames in the right size. When it comes to round faces, it's important that your frames aren't too small. A small pair of glasses won't provide enough contrast to the rest of your facial features, and in some cases will even be uncomfortable to wear. Measuring your preferred temple width and pupillary distance can make a big impact in getting the perfect fit. If you need help, try checking out our measuring guide here.